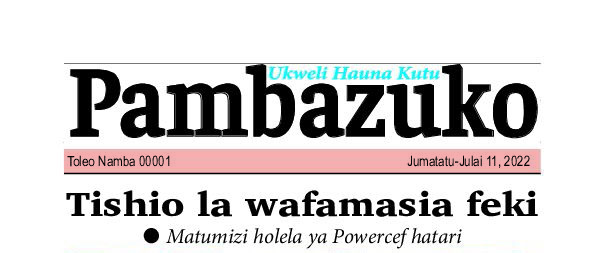 Pambazuko: WhatsApp Based Digital Newspaper is Out
Tanzania's renowned editor, Simon Martha Mkina – with a team of few journalists, today has launched a free Swahili digital newspaper distributed through WhatsApp and Email.
The digital newspaper named PAMBAZUKO (Dawn in English) is a new innovative style in the media industry in Tanzania, a country in East Africa.
Mkina, who is also The President of Tanzania Media Practitioners Association, the publisher of Pambazuko, said the new innovative in the media will enable the general public to get authentic and well balanced news from a trusted outlet.
He said,  although Pambazuko is published as a PDF file and distributed on a messaging platform, it has all the qualities of an old-fashioned newspaper.
Mkina added that Pambazuko which is a unique newspaper with catchy headlines, short stories, reporting sharp and straight articles and punchy, will also carry great interviews.
Being a long serving investigative and undercover journalist, Mkina is optimistic to reach more readers in a short span, as Pambazuko will be publishing hard stories which are now in scarcity in Tanzania.
Why using WhatsApp – a platform which others use to disseminate fake information and misinformation? Mkina said it is ideal to show the world public that on the platform, serious and  authentic news could be distributed to counter.
On distribution, he said WhatsApp disseminating is fast and convenient, but also protects against censorship.